Creatives Abroad is a mobile app helping creatives connect with like-minded people and find experiences while living abroad.
iOS - Mobile - User Research - Wireframes - User Interface - Usability Testing - Prototyping
My Role:
UX Researcher, Product Designer
Tools:
 Figma, Illustrator, Photoshop
Project Type:
 Independent, Academic,Conceptual model
As an artist or creative person living in a foreign country, one of the most difficult challenges one may face is finding like-minded friends. As an expat myself, this was a challenge that I also faced. This idea stemmed from my personal life and discovering that other creatives also shared the same experiences.
Creative people abroad have difficulties finding ways to connect with like-minded individuals and discover events and experiences to attend.
Hypothesis: An app dedicated to connecting creative people and showcasing creative events will help to enhance foreigners' experiences while living abroad.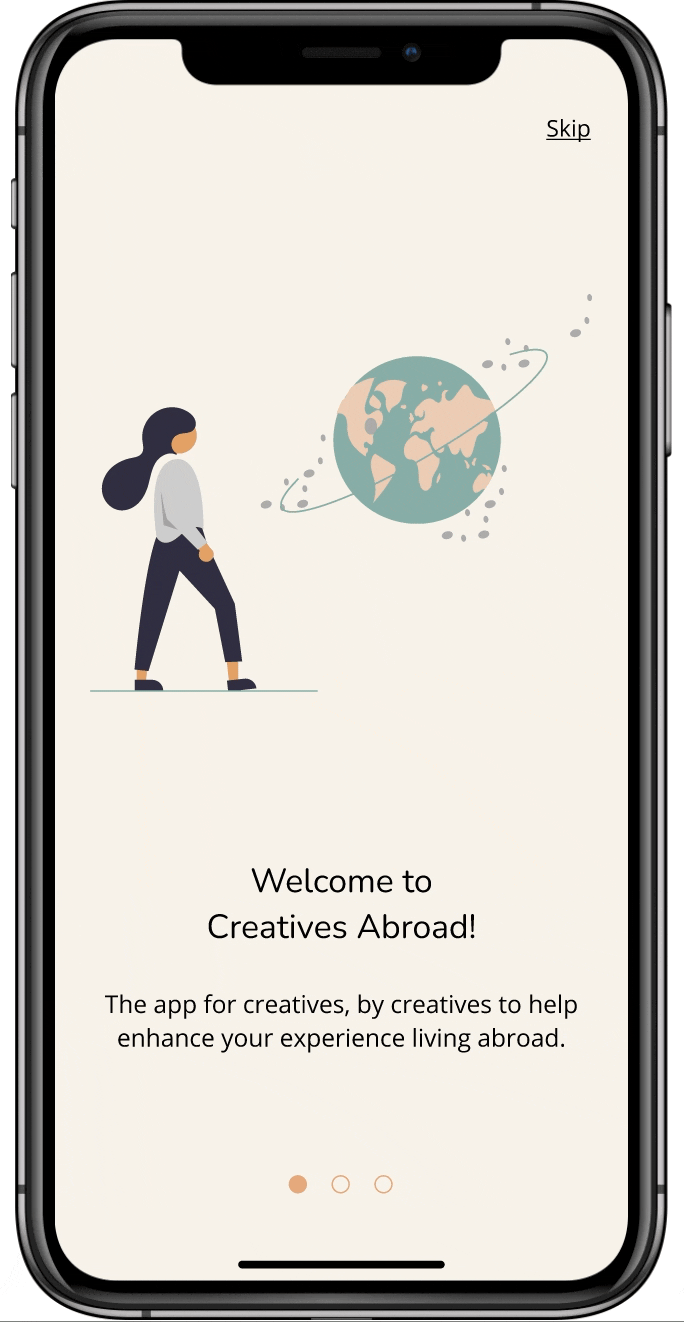 I knew from brief conversations with people in my community that this was a challenge many other creatives faced, especially now during the pandemic. However, I wanted to dig deeper and talk to more 
creative people who currently live or have lived abroad and have an interest in connecting with like-minded individuals
 to test this hypothesis.
At the end of the survey I asked for volunteers to share more about their experiences during an interview. Nine people responded with their email, however when it was time to schedule, I struggled to find reliable volunteers. In the future I would 
allocate more time to finding and scheduling so I don't run behind schedule trying to complete interviews.
Five creatives shared their experiences of living abroad, how it impacted their creativity and how it affected the way they made friends and found social events. As an expat myself, I was able to empathize with at least one thing each of them mentioned. But of course there were several overlapping similarities across all their stories.

Living abroad can be a great opportunity filled with adventure for many people, but it isn't always perfect. This change of environment impacted their creativity in many ways. They were mostly positive, but sometimes feelings of isolation, lack of motivation and insecurities came up.
After gathering the data from the interviews, I felt lost. I started to question my original idea because their histories with other social apps was insignificant, and, though their personalities differed, they had all made friends in the past through social gatherings and relied on mutual friends and word of mouth to find events and experiences. 
So, I wondered if an app would be the right solution.
After speaking with my mentor, I realized that the objective could be different for different users. Some may be more focused on making friends through the app, while others who prefer to connect in person would benefit more from finding events and experiences. I just needed to stop overthinking it and focus.

Meeting people online has become the new normal these days, especially since the start of the pandemic, so I knew creating an experience around connecting virtually wouldn't be groundbreaking. However, after assessing several competitors, I realized a few key things. 
No one platform achieved the goals of: catering to the creative niche, allowing people to connect through similar interests, and finding creative experiences.
Based on my research, I found that the main goals for the target users were to 
feel creatively inspired, meet people with similar interests, attend creative events to make friends.
 To convey that, I mapped out how users would go through the platform.
An onboarding was important to introduce the app to new users and show them how they could benefit from signing up. Through research, I also found that there may be 
different objectives for different users.
For example, the more extroverted users who prefer to meet in person could utilize the Experiences feature for discovering those events to attend. While the users that didn't mind connecting virtually could find it beneficial to utilize the Connections feature.
Create a profile to showcase their true creative self and preferences related to connections and experiences
Connect with other creatives based on shared interests
Find experiences to attend to stay inspired and meet new people offline